Everyone asks where they can find the best pizza in town and Ottavio is one of the heavy contenders. Many assume the best place for pizza is Little Italy which is simply untrue and Ottavio proves it. Many pizza restaurants don't bother offering a Gluten-Free alternative but Ottavio is very sensitive to this topic and provides safe dining for celiacs and non-celiacs in all of their locations.
Below are the best-selling pies offered at Ottavio
Sicilian Pizza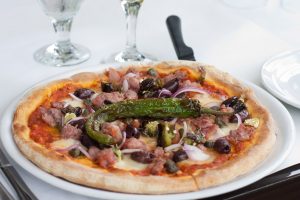 Our Sicilian pizza is a perfect marriage between mild Italian sausage, capers and Kalamata olives.  Red onions and hot Cubanelle peppers bring out the intricate flavours marvellously!
Margherita Pizza
Classic and loved, the Margherita pizza brings you melted Fior di latte on our homemade tomato pizza sauce with fresh basil.  Simply exquisite!
Delicious Americana Pizza
Meat lovers will be delighted with our delicious Americana pizza that perfectly combines the distinct taste of smoked bacon, tender homemade meatballs, succulent mild Italian sausage and pepperoni.  A delicacy!
Best Pizza in Montreal – Laval and South Shore!
★ ★ ★ ★

"One of the Best Italian restaurant in montreal hands down"

★ ★ ★ ★

"Quite arguably the best Italian restaurant for the price they charge. Picture this, an amazingly well thought out interior decor, with amazing platter presentation, great service, comfortable seating and cheap pricing in one restaurant! Rare right? Well this ones got it all! In fact, its so good that we went 6 times in 2 years (for my fiancee and I that usually means its a GREAT place!) Great restaurant!!!"

★ ★ ★ ★ ★

"Amazing Pizza and Tortellini Gigi ! Inexpensive and very good food. Has a bit of a family/friendly vibe, gluten-free options, and excellent service."

★ ★ ★ ★ ★

"A gluten free haven! Friendly, well informed service, extra precautions with every detail. An inexpensive, delicious gluten free and regular menu. Highly recommend."

★ ★ ★ ★

"Even if you are gluten intolerant or can't take dairy products you can enjoy a great pizza here. They have gluten free pizza dough and cheese substitute"

Phillippe M.

Google Review